Fell & trail running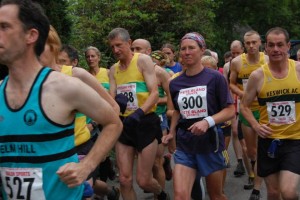 Experience the freedom and thrill that running in the hills offers. Whether you're a road-runner looking to get a bit more excitement out of the sport, a hill walker wanting to enjoy the mountains in a different way, or an experienced fell runner wanting someone with the knowledge and experience to show you the best lines in
classic Lake District races
, you're sure to have a fantastic time if you come running with us.
We offer either a full-day or half-day runs, and some examples of these are shown below.
How fit do I need to be?
You need a reasonable level of fitness to come out running with us, but not necessarily as much as you think and we can tailor-make the day based upon how much experience you've got. As a rough guide, being able to run for 4-5 miles is advantageous to enjoy a good run in the hills. We'll discuss this with you when you make a booking.
Make a booking or enquiry
Half-day runs
Half a day is ideal for summiting a mountain or two, running around a lake, or
recceing some shorter races
. For example:
Fairfield Horseshoe or Kentmere Horseshoe race routes.
Pen-y-Ghent, Ingleborough or Whernside.
Scafell Pike up & down.
​Full-day runs
A full day of running is suitable for longer mountain runs covering many summits, and for recceing some longer Lake District classic races. For example:
Fell running courses
The best way to truly experience this fantastic sport is to come on a fell running course with us. They normally run (pun not intended!) over two days and we'll cover everything you need to get you on your way to become a fully-fledged fell runner. The topics we'll cover will be completely tailor-made to complement your own experience, but examples include:
Gear choice: what to take and when.
Navigation for runners.
Route planning
Race pacing, choosing the best lines and training.
Nutrition, whilst out running, before and after.
More advanced topics: run-scrambles; preparing for long-distance challenges; winter fell running.
Gear you'll need
We will talk to you about specific kit requirements when you make a booking, but as a rule you'll need a pair of trail or fell running shoes with a good grip and a rucksack or bumbag that is comfortable to run with (dependent on the run).
Prices
These are our standard prices, but
get in touch
for an exact quote for your tailor-made experience:
Other practicalities
We'll discuss other practicalities, such as meeting times and places, with you when you make a booking.