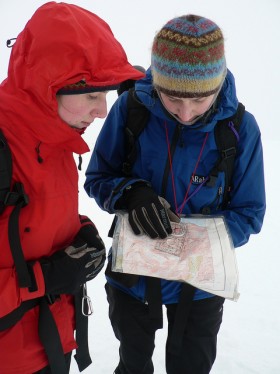 Being able to navigate confidently is key to success, safety and enjoyment in the mountains. Our courses are designed not just to teach you the basic elements of mountain navigation, such as understanding map symbols and taking compass bearings, but also to teach you how to plan out suitable routes taking into considerations such as weather and who's your group, how to interpret weather forecasts for the mountains, how to choose what equipment to take, how to deal with emergency situations and much more. The
Lake District
is the ideal mountainous terrain to teach such knowledge.
In short: We'll teach you the skills you need to be confident and self-sufficient in the mountains, ultimately meaning you'll be able to enjoy the mountains to their full potential in a safe and responsible manner.
Whilst we normally run courses in the Lake District, we are more than happy to in other mountainous areas of the UK such as the Yorkshire Dales and Snowdonia.
Make a booking or enquiry
One-day courses
Typical content that we'll teach you on a one-day course includes (but isn't limited to):
Reading a map: understanding symbols and contours.
Navigation strategies: how to get from point A to B in the best way.
Taking grid references and orientating your map.
Taking and walking on a compass bearing.
Estimating times and distances.
Relocation: how to find out where you are if you're lost.
Planning walks and escape routes.
Interpreting weather forecasts for the mountains.
Dealing with emergencies.
Choice of equipment.
Two-day courses
On a two-day course, we'll go over the above but in more detail, with extra time to practice and consolidate your skills. We'll also introduce some more advanced navigation skills for really challenging conditions. We recommend a two-day course over a one-day course as it gives you the time to really get your teeth into some of the most enjoyable and rewarding elements of mountain navigation. Things you can expect to learn that aren't covered on a one-day course include (but aren't limited to):
Advanced compass work: such as back-bearing and triangulation.
Advanced navigation strategies: aiming off, attack points and tick-off features.
Pacing out distances accurately.
Micro-navigation: Using all the skills you've learnt to pinpoint your location exactly.
Longer courses
Most people tend to go for one- or two-day courses, but longer courses are definitely beneficial, and give you chance to consolidate and hone your skills under our experienced surpervision. It gives us more time to teach you more mountain skills, such as movement over steep ground and planning multi-day trips.
Prices
These are our standard prices, but get in touch for an exact quote for your tailor-made experience: ​
Accommodation
We don't provide accommodation usually, but we're happy to sort somewhere out for you based on your budget. Let us know when you make a booking if you want us to book accommodation for you as well.