Last week the counting down of weeks and days came to an end as we embarked to Scotland for the Winter Mountain Leader (WML) Assessment week that we had booked onto with Pete Hill in the Cairngorms. It feels pretty strange now it is over, as it had been my entire focus for the past 3 months, but at the same time very relieving, especially as we all passed!
Here is a blog which I hope is useful for anyone else going for their WML assessment, and also explains our qualification to anyone interested in booking winter days out with us in the future!
The WML award is a nationally recognised qualification by the Mountain Training Association of the UK. Skills and techniques necessary to lead walking parties on the hills and mountains of the UK under winter conditions are assessed, as well as the ability to undergo grim suffering on a three day snowholing expedition, otherwise affectionately referred to as a 'mini break' by the assessors.
Apparently a few years ago the Scottish Qualifications Authority declared the Winter ML at the same level as an ordinary degree! And after all the preparation and years of experience gone into it I'm inclined to agree! To register for the award a vast amount of experience and knowledge is required before the assessment process. It is commonly regarded as the toughest of the Mountain Leader Training assessments due to it's reputation of excessive physical and mental demands, combined with hard navigation in potentially the worst winter weather the UK can throw at you, which we certainly did not escape on the Cairngorm plateau, despite booking onto the last assessment course of the season.
There were 8 candidates, including myself, Lorna, Darren and Sam, we met in Grantown on Spey for our introduction and talked through our theory papers, the avalanche forecast which was category 3 (Considerable) for most of the week, and the weather forecast, which was a little drafty to say the least! We were split into two groups and assessed by three assessors during the week.
Day 1
Off we headed to Coire na Ciste, which was slightly sheltered from the 90mph gusts forecast. Here we played the role of teaching novices ice axe arrests, boot and crampon techniques, and cutting steps. The snowpack was pretty icy low down with a thin fresh layer of snow over the top, so this became pretty hard work after cutting the 30th step! Navigation and avalanche awareness also featured in the day, although this was mainly reserved for the expedition. The other group also did an on-the-spot emergency shelter exercise, so be prepared to work with what you've got for this!
Day 2
Tuesday was emergency rope work/security on steep ground day. Again, we had strong winds of about 50mph and constant heavy snowfall, a few hours into the day we depicted the typical winter mountaineer scene of waterproofs frozen stiff in ice and rucksacks filled with spindrift despite being fully fastened... it's difficult not to take the spindrift personally when it gets to that point! All anchors were covered and belaying demonstrated on both sides, as well as confidence roping. To finish off we had 20 minutes to build an emergency snow shelter. This was actually quite easy as we were located next to a moraine feature in the east of Coire an t-Sneachda, which had enough windslab deposited on it's lee side to dig a snow hole, so everyone opted for the tunnel in sitting bivi.
Snowing down in Aviemore the night before expedition starts!
Days 3-5
For the expedition we headed out onto the main Cairngorm plateau from the top car park. Emphasis was heavily on navigation, looking after the group and keeping them entertained with interesting knowledge, and making good route choices based on the avalanche hazards. The cloud was again low, and after reaching the top of Fiacaill a Choire Chais we were in white out conditions. The navigation legs were typically around 1km long and to progressively harder features, like stream entrants that were covered in snow and other rather featureless terrain.
We arrived at our snowholing site and most people changed into a pair of good old marigolds for digging! At first it was a dream with nearly a metre of soft windslab to dig through but then we hit the old layer in the snowpack which was nearly like ice for half metre, before getting easier to dig again. One team broke into an old snow hole after an hour of digging, thinking that was them lucky they then had to start from scratch as the whole construction needed to be seen. Consequently some snow holes were finished rather late so we made tea and went to sleep. Not much sleep was had however as despite building a large defence wall around our entrances the spindrift insisted on filling us in and we had to get up frequently to clear it out.

​

Great views in Coire Domhain, home for the expedition.
​
The next day started with white out conditions again and we headed around the Ben MacDui area doing long nav legs and talking about avalanche awareness. Half way into the day the cloud lifted and we had glorious blue skies for a couple of hours!
​
The cloud eventually lifts on Ben Macdui
Back to the snow holes where we dug avalanche evaluation pits and took it in turns to be tested on talking through all we knew about snowpack and avalanche awareness in 5 minutes. Then time to cook tea before an epic night navigation exercise. This lasted between 5-6 hours and was pretty gruelling, as well as being dark…obviously…it had begun to snow and the wind had picked up again, the weather was not going to let us get away with enjoying the brief glory of sunshine early! Most of the expedition we had bad visibility, but the night navigation is really where the WML gets it's reputation from I think. When towards the end of the expedition you've had only about 4 hours sleep in between two days of physically demanding exercise you've got to maintain concentration, and it's quite a mental battle keeping count of pacing wondering around pretty featureless terrain.
Finally it was time to walk out on day 5 and we waited in the car park for an hour while the assessors discussed how everyone had done. One by one we went to receive the news and to everyone's great delight we had all passed, the assessors said we were a very high standard group of candidates, and had done very well on the navigation enduring tough conditions throughout the week.
We all headed to a café in Aviemore to celebrate by stuffing our faces full and warming back up! You'd think everyone in a mountaineering town like Aviemore would be use to people turning up in cafés after not having washed for days, having ludicrous wind burn and being bleary eyed, but we still got a few funny looks...
A well deserved treat!
So, congratulations to Mark, Dave, Niels and John too! Great company! Hope to meet you all out on the mountains again!
Here are a few top tips for those going for assessment:
Have two coats! After a long 10 year service my waterproof finally ripped at the shoulder when demonstrating ice axe arrest, thankfully I had taken my own advice before

so had a nice shiny new one lined up for the expedition!

Have at least 5 pairs of gloves! Even with waterproof ones they will get drenched when digging

the snow hole.

Make the floor as well as the ceiling of your snow hole smooth, as after it has all re-frozen by the

second night every little bump is very painful to kneel on!

Be decisive when choosing an emergency shelter: I was toying with the idea of making a snow

grave but decided against it as there was a lot of snow still being dumped, but the key is to

choose one and just get on with it before time runs out!

Explain your reasoning behind all your choices and then be confident with it. Especially with

navigation legs; the assessors won't let on if you're right or not and make you question

everything you do. Seems it's just to test how confident you are with yourself and so they can

see your decision process.

Get up to Scotland as much as possible!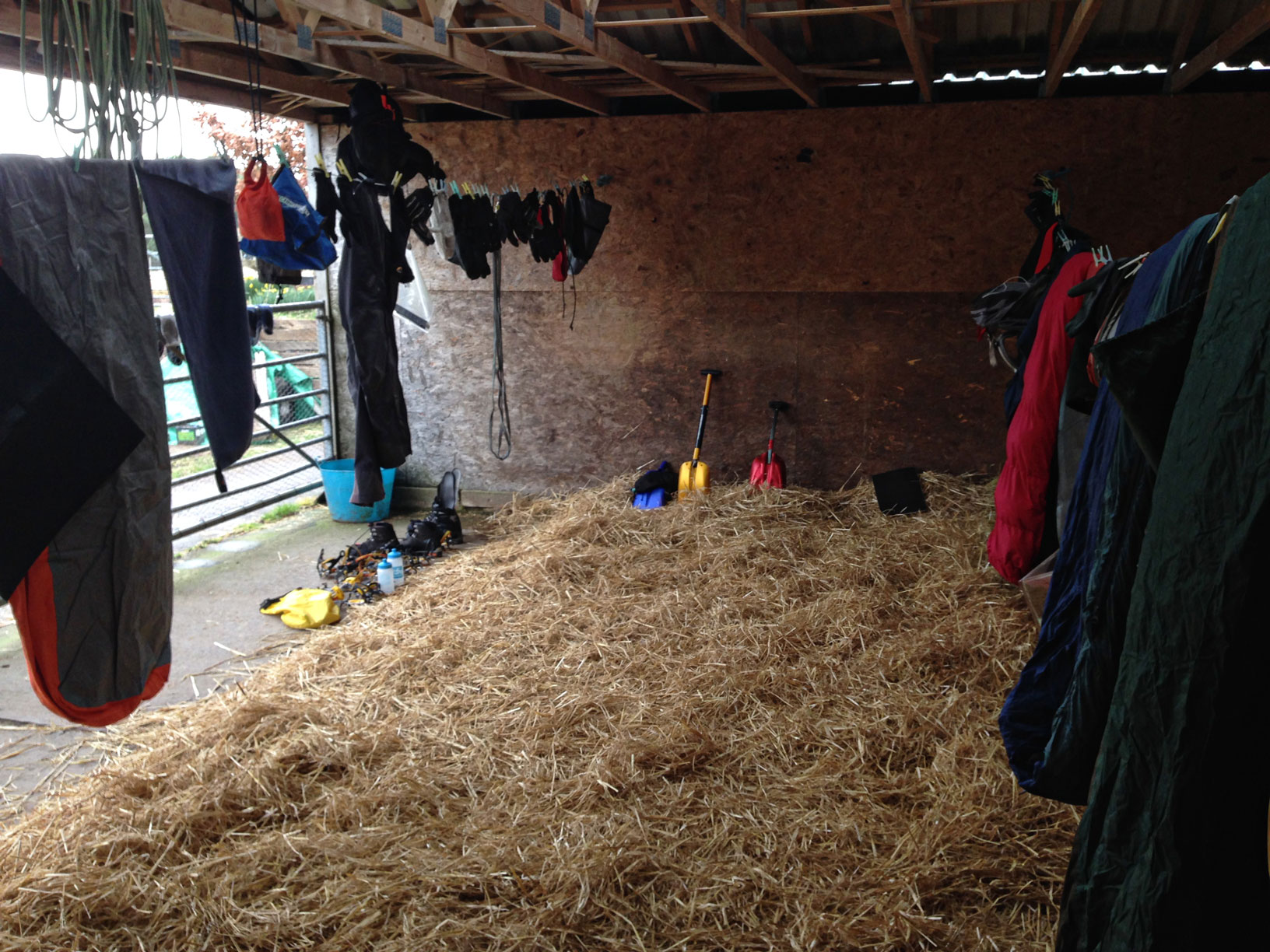 ​
Things got slightly damp!